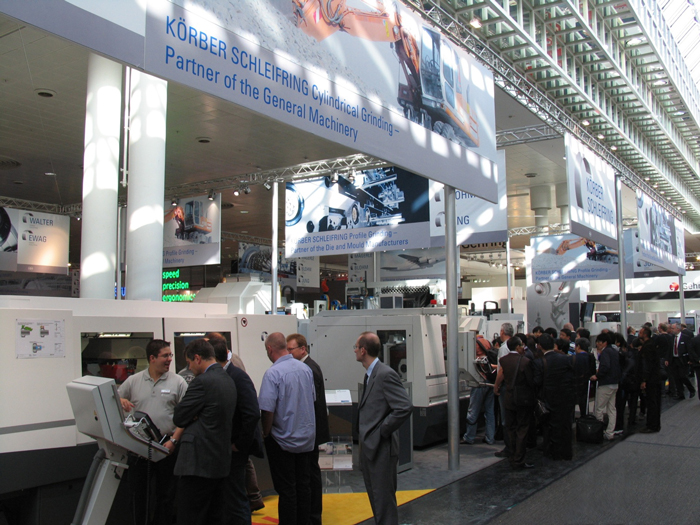 Koerber
EMO 2011: Grinding technology fascinates the experts
For 34 years, the "Exposition Mondiale de la Machine-Outil" (EMO) has been the most important trade fair of the machine tool industry. After the last EMO took place in Milan in 2009, i.e. in economically difficult times, the experts now met from 19 to 24 September 2011 in Hannover, the state capital of Lower Saxony – however, this time under a significantly more positive omen. This is because a large number of companies in the industry currently face a positive order situation. This high demand for investment goods was also clearly noticeable at the EMO.

As in the past, this SCHLEIFRING Group Mecca for all prospective customers of grinding technology was located in an accessible position in hall 11. The booth attracted a large number of visitors during the entire event EMO 2011. Here visitors could experience a complete range of different grinding machines. Occupying approx. 1,000 square metres, 22 exhibits from the fields of cylindrical grinding, flat grinding, and profile grinding, as well as tool grinding, were available. First and foremost, the product novelties of the SCHLEIFRING group attracted wide interest. Thus, Ewag presented their LASER LINE, for laser processing of PCD tools and Studer presented their new cylindrical grinding machine S41 in the 1,000 and 1,600 variants in Hannover for the first time. A further novelty attracting the interest of the visitors was the flat and profile grinding machine ORBIT from Blohm. For the companies of the SCHLEIFRING group, this leading trade fair was the most successful trade fair of all time, because they took many more orders than at the so far record EMO in 2011.

Furthermore, at the booth at the EMO the SCHLEIFRING group presented itself with the new label "Blue Competence" for the first time. The trade association VDW – German Machine Tool Builders' Association used this label to honour the activities of the group of companies in the fields of energy and resource efficiency and awarded the ecological trademark to every company.

However, the SCHLEIFRING group does not only campaign for sustainable economic management, but also showed its colours for trainees. This way, the group participate in the EMO-special youth show of VDW vocational education in hall 25. Here, young trainees of Studer present their apprenticeship and process workpieces on a STUDER S33 on site.