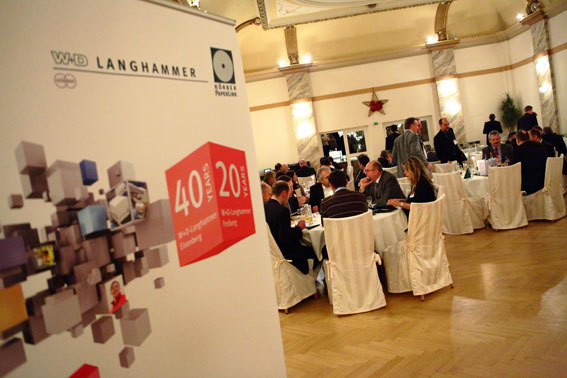 Koerber
40+20 = Worldwide success
In 2011, W+D-Langhammer was able to look back on 40 successful production years in Eisenberg (Palatinate) and 20 in Freiberg (Saxony). At the same time the opening of the new company building in Freiberg forms the basis for more growth.

Today, the company is the market leader in the European bakery industry and all notable firms from the tissue, food and chemical industries make up its clientele. Reason enough for W+D-Langhammer to celebrated together with friends, partners and employees.

A viable corporate structure and a consequent customer oriented approach. This was Heinrich Langhammer's philosophy when he founded the company. The development from a middle-class company to an internationally active solution provider for palletizing systems succeeded with the change to the Körber Group and being able to use the Körber network in the areas of service, sales and marketing. "Nevertheless our customers and our employees remain the basis for our success," says Managing Director Enrico Pes. "Our customers' requirements have substantially influenced our developments and our employees were and are willing to go through with the necessary changes those developments bring."

Their building block system allows the company to stay flexible. "It's intricate and adaptable enough to meet the exact needs of our customers," says Managing Director Georg Schmitt. "So as one of the few companies worldwide we can offer all five conventional palletizing systems. Each one adapted to the location, the product, the speed and the hygienic requirements."

What already applies to Europe is what the transport and palletizing experts want to see worldwide: to establish themselves as system solution suppliers, also in branches other than the tissue and paper industry. With the new building in Freiberg – where the emphasis is on foodstuffs – they have created the basis for achieving this goal.