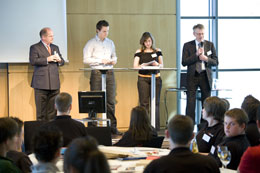 Koerber
New trainess at Körber- 124 trainees from 15 companies visit Hamburg
124 trainees and students from the Körber companies in Germany and Switzerland, who started their training or studies in 2008, accepted the invitation from the Group and Foundation Executive Boards. They were welcomed by Dr. Werner Redeker, Chairman of the Board of Körber AG, and Christian Wriedt, Chairman of the Board of the Körber Foundation.

Both subsequently answered the questions posed by Yvonne Eisen and Michael Huhn, trainees from Winkler+Dünnebier AG, who did an excellent job of guiding guests through the event. In addition to basic questions about the Group and Foundation, the young moderators asked questions regarding their personal background and typical workdays, which were answered by Redeker and Wriedt with great openness and enthusiasm.

Group CEO Redeker emphasized the important role that vocational training plays in ensuring the future of the Körber Group companies and encouraged the trainees and students to actively participate in shaping this future.
Then it was time for the new generation of Group employees to apply themselves: the teenagers spent the rest of the day together showcasing their own presentations about current projects at the Körber Foundation as well as taking a quiz about Körber AG's Facts and Figures.