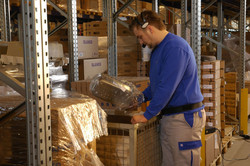 Koerber
LogiMat: Intralogistics solutions in triple pack
Intelligent solutions, transparent and flexible processes and know-how in system integration play an increasingly important role in intralogistics. Because whether with regard to automated high-rack warehouses for mail order companies, conveyor technology in the cosmetics industry or manually operated warehouses at a kitchen equipment supplier – speed and reliability are obligatory.
A reduction of the interfaces and optimum use of synergies are decisive factors in this context. Customers from various sectors can thus benefit directly from the close cooperation between the three Körber Process Solutions companies, whether with respect to new plants or modernization measures, customer-specific IT solutions or with process improvement: Thanks to the combination of modular hardware components or complex mechanical engineering with their own software, control and automation technology, Aberle develops customer-specific intralogistics solutions. Aberle Software ensures the harmonious integration of the software and control technology into the existing IT structure. The proven palletizing systems and conveyor technology from Langhammer complement the automation process to provide efficient intralogistics solutions.
The innovations being presented by the companies at the trade fair include the WAROS optimization solution from Aberle Software. By smoothing the capacity utilization curves, this software improves the handling processes at the customer, thus increasing throughput, transparency and delivery service. A further highlight is the PMS app from Aberle, which provides cross-location access to the current warehouse codes, thereby extending the function range of Aberle's modular Process Management System PMS. The effective and flexible palleting solutions from Langhammer round off the offering.